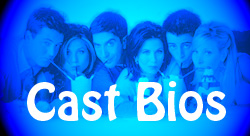 Jennifer Aniston
Courteney Cox Arquette
Lisa Kudrow
Matt LeBlanc
Matthew Perry
David Schwimmer
---


Jennifer Aniston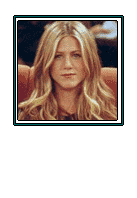 Jennifer was born in Sherman Oaks, CA on February 11th, 1969. Descending from a Greek background, she lived a year of her childhood in Greece with her family. Growing up around actors-her father John Aniston, who plays Victor Kiriakis on Days of Our Lives, Telly Savalas was her godfather-it is no surprise that Jennifer Aniston plays Rachel with such a flair. (Not to mention the fact that her parents divorced when she was nine, leaving a good impression for TOW the Two Parties.)
Jennifer's first experience acting took place when she was about eleven, as part of the Rudolf Steiner School's drama club. She claims it was the free-spirited atmosphere of Rudolf Steiner School that brought out her real interest in acting.
Jennifer graduated from New York's High School for Performing Arts in 1987, and went on to play impressive roles, such as "For Dear Life," and "Dancing on Checker's Grave." Jennifer also guest-starred on shows such as "Quantum Leap" and "Burke's Law."
Besides acting, Jennfier is also an artist. A painting she did when she was only eleven years old was displayed in the Metropolitan Museum of Art. Even now, Jennifer works on sculpting, painting, and charcoal drawing.
When Jennifer first auditioned for "Friends Like Us" she was cast the part of Monica Geller. She insisted she would make a better Rachel. I think we all agree she does.
---


Courteney Cox Arquette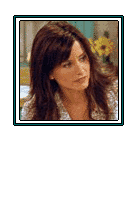 Courteney Cox (Arquette) was born on June 15, 1964, in Birmingham, Alabama, the youngest in a family of four children. Her parents divorced on her tenth year. (Hm, are we seeing a pattern yet?) She was not the type of person to blame herself for such a terrible event. She felt that her mother was completely at fault, which may be explained by her especial closeness to her father. Now, though, Courteney is very close to her mother, which is lucky, because if she were really Monica, she would not have that closeness to either of her parents.
When Courteney graduated from high school in 1982, she went on to Mt. Vernon college in Washington, where she studied architecture. In her last year of college she met Ian Copeland, and they began to work together for a New York music agent. Courteney decided she wanted to be a model, and Copeland (now involved with Courteney) encouraged her to go for it. He also suggested she go into acting, as well. Courteney received jobs for ads for Noxema and Maybelline. (Here might would be a good time to say that she was the first person to say "period" on television, in an ad for Tampons.) Soon after, she also landed a small role on the soap opera "As the World Turns."
Although it may seem like a lot, Courteney was not really noticed until 1984 when she landed the chance to be in a Springsteen music video as a dancer. The video was "Dancing in the Dark." The job only paid $350, but was a lot more valuable than may be assumed.
Courteney ended up starring in "Misfits of Science" which unfortunately for her came to a close within four months. Her next job was as a guest-star on "Family Ties" as Lauren, Michael J. Fox's girlfriend. After the end of "Family Ties," Courteney did many movies, such as Scream, and then, in 1994, landed the role of Monica Geller, whom we have all come to know and love.
This summer, Courteney was married to David Arquette, another star of Scream and Scream II. So now she's Courteney Cox Arquette. When will she be Monica Geller Bing???
---


Lisa Kudrow

Lisa Kudrow was born on July 30, 1963 in Encino, CA. She grew up in the Los Angeles suburbs. Her father, Lee Kudrow, was a famed headache expert; her brother a neurologist. So it makes sense that Lisa would also be encouraged to enter the medical field. In upstate New York, she studied biology at Vassar College. Graduating in 1985, she intended to become a medical researcher. But when her brother's friend, Jon Lovitz, landed a sudden role on "Saturday Night Live," Lisa was suddenly encouraged to act.
This also, seemed fitting. In sixth grade, Lisa enjoyed lip-synching to the "Fiddler on the Roof" soundtrack. How much different is acting from that? And now that she had inspiration, well…
Her first try at acting again came when she auditioned for the Groundlings, an improvisational comedy that had started off Jon Lovitz and others like Paul Reubens and Phil Hartman. Lucky for her, her classmate (a.k.a. none other than Conan O'Brien) gave her some acting lessons, and Lisa became a part of the Groundlings crew. In 1989, she started auditioning for other gigs, such as "The Ladies Room," and a few movies. This boosted her self confidence to a point where Lisa felt she should begin looking for a television series to join.
The chance came when she guest-starred on "Cheers," then "Coach" and even "Newhart." Then came the role of Ursula on "Mad About You." This break encouraged her to try for something even bigger. Lisa was given the role of Roz on "Frasier," but it was snapped away from her by Peri Gilpin, which is okay, because, otherwise, she may not have ended up on "Friends" soon after.
---


Matt LeBlanc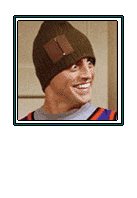 Matt LeBlanc was born July 25, 1967. Starting at the age of eight, Matt got really into motorcycles. (That's when he got his first one.) He participated in several competitions and hoped to one day go pro. However, his mother forced him elsewhere: he went into carpentry, but that didn't work out.
It was after graduatio from highschool that Matt finally got to do something that he didn't mind doing: he went into modelling, and did television ads for Levi's jeans, Coke, Ketchup, and Doritos. The Ketchup advertisement won the prestigious Gold Lion Award at the '87 Cannes Film Festival.
In 1988, LeBlanc began acting. He started training, and within the year, he received a role on "TV 101," and moved to L.A. After that, he also starred on "Top of the Heap," "Anything to Survive," (which was a movie), and "Vinnie and Bobby."
His first feature film debut was with Alanis Morissette in "Looking Italian." Since he has also starred in "Ed."
When he showed up for the "Friends" audition on a motorcycle and leather pants (I'm sorry if it's not true, it's just what I've heard,) his first impression on the others was…"Whoa." He was just flat broke and out on a limb. Were it not for the great Joey Tribbiani…
---


Matthew Perry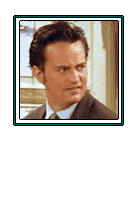 Although our favorite loveable guy was born in Williamstown, MS on August 19, 1969, many people consider him to actually be Canadian. He lived most of his life in Ottawa, Ontario, where he became a great lover of tennis. He began the sport at the age of four. By the time he was 13, he was ranked as the number two player in Ottawa. In doubles, he and his partner placed third at the Canadian National Championships in his age group. "It would have been cool, except the tournament was sponsored by Disney," he explains. "So there's this big Goofy on the bronze medal – I can't impress women with that."
Of course, this took place after moving from Ottawa to Montreal, to Toronto, then back to Ottawa again. Matthew's mother, Suzanne, did a lot of moving around after her divorce from John Perry, because of her new career as part of the fedral Liberal party. "My recollection of that time mostly was, 'Wow, she's working a lot, and I wish she wasn't,' " her son says. As Suzanne Perry was press secretary to prime minister Pierre Trudeau, you would expect Matthew had buddied up with him. Nope. He only met the prime minister once when he was nine years old. He thought it was cool because Trudeau had a French accent.
Matthew's acting "career," if you will, began in seventh grade when he played a gunslinger named Arriba Arriba Geneva in the Ashbury College production of "The Life and Death of Sneaky Fitch." He recalls the play as one of the greatest childhood memories he has. However, life at the exclusive Ashbury College was not cut out to be what you would imagine. Matthew was a horrible student, and spent most of his years there goofing off. Not only that, but his dream to become a tennis pro was nearly ruined when he was slaughtered at his first big match. It would not have been so bad, if not for his horrible temper. "Nine times out of ten I'd win, but I'd still be upset," he recalls. "So I completely stopped playing after graduation."
Nonetheless, Matthew forgot about his tennis dreams when he was discovered in a restaurant at 16. "I was skipping school – this is not a good lesson for the children." A waitress handed him a note saying that a director had just seen him and wanted him to cast in a movie called "A Night In the Life of Jimmy Reardon."
When he graduated from high school with poor grades, Matthew made a deal with his father: either he find an acting job within a year, or it was to college with him. "Being an actor," he says, "my dad knew the ups and downs of the life." Soon (very soon, indeed, just a week after,) Matthew received the starring role in a sitcom, "Second Chance." "It was the lowest-rated show in the history of shows," he claims. After 13 weeks on the air, it went down the toilet.
After "Second Chance," Matthew went on to other shows such as "Boys Will Be Boys," "Home Free," and dozens of guest-starring roles on countless sitcoms. It was then that he found an audition for a new sitcom called "Friends Like Us," and I think we all know where that lead him!
---


David Schwimmer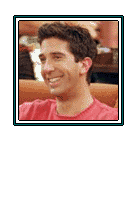 David Schwimmer was born on November 12, 1966, in Queens, NY. (Hey! I thought that was JOEY!) His first experience acting was in his highschool drama class. He was very good, and his instructor encouraged him to join a summer acting program at NorthWestern University of Chicago. "I was sold on acting after that summer workshop because of my experience at NorthWestern. It was both enlightening and exhilirating," David says.
And NorthWestern University was where he attended after graduating from highschool. He graduated university with a B.S. degree in speech and theater. Together with seven others, David founded Chicago's Looking-Glass Theater Company, composed of several actors, directors, and writers.
David has made it in many stage productions, and a few movies, such as "Seven Days, Seven Nights." (That film reminded me of Rachel's mother's comment: "Once a cheater, always a cheater.")
About a year before landing a role in "Friends," David played several guest-starring roles on "Monty," "The Wonder Years"-yech-, "L.A. Law," "NYPD Blue," and "The Single Guy."
Besides being the geeky Ross Geller, David also enjoys writing, playing softball, and playing basketball.